Introduction
Fifteen players from five different countries took part in the second British Open Table Tantrix Championship on 3 & 4 May 2003. It was part of the third provisional Mind Sports Olympiad event held at Parkside Community College in Cambridge. Tom McCoy was defending his title against challengers from Finland, Germany & the Netherlands as well as England & Wales, all shown in Steve Lugton's photo below.
As with all of the photos in this report, you can click on it to get a bigger version (just click the back button on your browser to return to this page afterwards) and you can hover over the later photos with your mouse to see the captions. On the bigger photos, the names of the players and the colours they are using are generally visible on their name tags. NB. The bigger version of the group photo below has player names on the picture itself.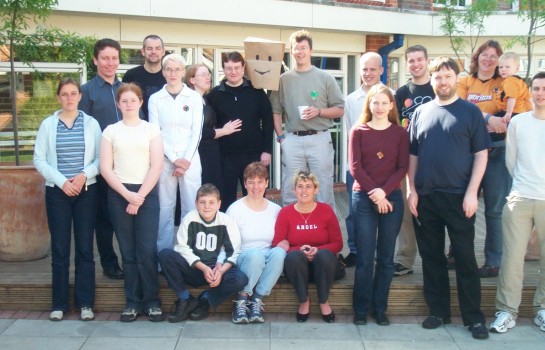 Back row: (all ENG unless otherwise stated)  Rick Yagodich ("RickY"), Ben Polman (NED, "benopi" - 2001 European Champion & runner-up in the 2003 Euro), Sharon Lewis ("frankie"), Jonathan Jones (WAL, "Jonjo"), Kevin Scott ("cuthbert", runner-up last year, QF-ist in the 2003 Euro), Rob Morton ("cheekymbk", QF-ist in the 2003 Euro), Tom McCoy ("LittleTom", last year's winner), Marion Scott ("mazzer", 4th in the 2002 Euro), Jake Scott (a bit young to play in this year's tournament!)
Others standing: (LHS)  Brigitte Empt (GER, "jolene"), Eleanor Gordon ("Frogzone1"), Heli Niemi (FIN, "Helly" - 2001 World runner-up, 3rd in the 2003 Euro) (RHS) Julia Schwarz ("jade" - 2000 World Champion, controlling not playing in this event), Steven Trezise ("steven2" – last year's European Champion, controlling not playing in this event), Alistair Gorrie ("Allegory", who was "all there" in reality, if not in this photo!)
Seated: Dale ("thompster") & Alex Thompson ("toddy"), Karen King ("Salsachick")
You will also find a pic of those in the 'fan club' later on, just before round 9.
Round 1
A few of the participants already knew each other and many were staying in the same place so the atmosphere was already very friendly on the first morning, with everyone in a good mood as round 1 was about to start:
Reigning champion Tom had the bye in a first round which saw a few close games but no real shocks. As last year, Marion had the best round 1 result, beating Sharon by 17 tiles, with husband Kevin (who beat Dale by 12) not far behind.
Round 2
Everyone was thinking hard as Round 2 got underway and there were some important games in this round, especially on the top tables. Al and Alex both did well to hold Heli and Ben respectively to draws on tables 2 and 3 and Marion was ecstatic with her 3-tile win against Kevin on table 4 which kept her in the top two overall, not least because it was her first win in a tournament against her husband!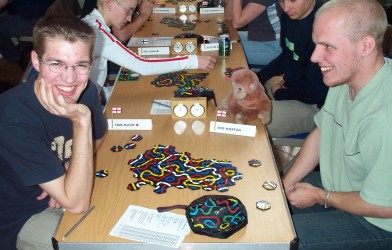 The real drama was reserved for table 1 though. The game between reigning champion Tom and rising star Rob had, ever since the schedule was published, looked like it might be the first crunch match of this tournament. That was exactly how it turned out, as Rob completed a 20-tile loop to move into 1st place overall and leave Tom languishing in 13th place, already with a very uphill struggle in his quest to retain the title.
Tom managed a rueful smile (see right, where you can also see Rob's big white loop clearly on his 'colour blind' tiles) while the winner seems to be thinking "What's he smiling about - I just thrashed him!" … whereas his monkey just looks on stunned J
Round 3
Rob came back down to earth in this round as Karen pushed him very close on table 5, but he eventually won the game by just one tile to stay in the lead. Marion stayed in 2nd place despite being pushed just as close by Eleanor. They might have been on the lower tables this round but Rob and Marion were now the only players who had won all three of their games.
However, on the top tables (where, as you can see below, the games in this round involved players from all five countries), the challenge from the overseas players increased. Despite looking rather annoyed about something in the RH picture, Ben managed a big win against Jonathan to stay in third place and Heli joined him there on the same number of points with an even bigger win against Sharon.
On the table next to Ben, last year's runner-up Kevin was held to a draw by Rick and remained in 7th just behind his opponent, but on table 1 nearest to the camera in the LH picture, Tom beat Brigitte to climb five places to 8th. In the remaining game, Alex's competitive instincts just outweighed her motherly instincts (joking!) as she beat Dale by 11 tiles to move up to 5th.
Round 4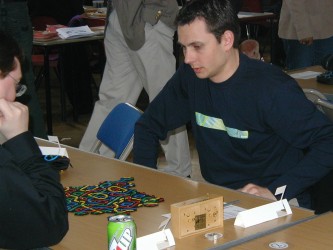 Some players obviously had better lunches than others because it was all change at the top of the table as the long afternoon session got underway. Tom beat Eleanor by five tiles but the combination of the other results meant that he actually dropped a place as a result! How could this have happened?
Well, first of all Rob succumbed to Rick, losing by 10 tiles and leaving them both 3rd=, while good play by Brigitte combined with a lack of helpful tiles condemned Marion to her first loss as well, dropping her to 5th, just above Kevin who beat Karen. Ben was on a notional 10 TP bye so ended up above both of those players in 2nd place but an 11-tile win for Heli against Dale made her the new leader by six TPs.
On the other tables, Alex lost to Sharon just as Dale had done two rounds before (these would turn out to be Sharon's only wins and at this stage she was in 11th place) but that was not enough to drop her below Tom, and he was also leapfrogged by Al, whose 23-tile red loop in the game you can see on the left gave him all 20 TPs against Jonathan.
Round 5
Round 5 was the first round in which the top four seeds got to play each other. The two players who finished in the top three of this year's European championship, Ben and Heli, met on table 2 – this was of course also a top of the table game at this stage.
As you can see from the first picture below, Ben found it a difficult game right from the start, using up more than half of his time before there were 15 tiles on the table. By the time of the second picture, Ben was still perplexed and had gone over the allotted time even before the bag was empty. Rob's monkey had fallen asleep! Heli would end up beating Ben by just one tile but the four time penalties Ben gave away to her would give her a lead of more than 10 TPs at the top of the table by the end of the round. Remember to click on the pics if you want to see larger versions.
Rob himself had already packed up after an impressive five tile win against Marion which would end up taking him back into second place, while a win for Rick against Brigitte meant that he was now on his own in 3rd.
The game on table 1 was a repeat of last year's Final between Tom and Kevin, with Tom repeating his victory but this time by just a single tile -- this time he did move up the table, three places to 6th with Kevin dropping to 8th.
Alex beat Al by 8 tiles in the game you can see below left and losses by Marion and Kevin just above her together with Ben's big drop from 2nd to 5th allowed her to move up to 4th, marking the zenith of her fortunes in this competition.
Further down the table, Sharon had taught Jonathan how to play Tantrix only earlier in the week but he repaid her efforts by beating her in their game and by taking two time penalties off her as well, he was now just 0.1 TPs behind her overall.
Round 6
As you can see above right, everyone was deep in thought again as Round 6 got underway.
Heli was involved in a top of the table game for the second round in a row, and would probably end up a massive 15 TPs ahead at the end of the round unless Rob could bring her unbeaten run to an end.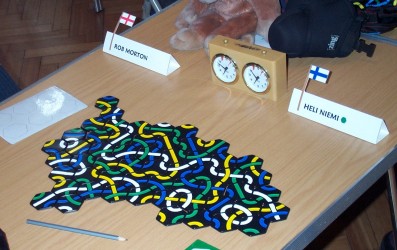 Heli completed a 9-tile loop early in the game, scoring 18 and ensuring that she could give the task of stopping Rob's line from reaching 19 her undivided attention. However, Rob fought on right to the end to extend his line by just enough to win by a single tile – you can see the final position on the right. Despite this result, Rob dropped to 3rd because Rick's much bigger win against Dale lifted him into 2nd, and Heli was still 1st but her lead had been cut to less than 1 TP.
There were no shocks in the other games in this round but Tom, having followed up his unfortunate start with four wins in a row, was now 4th and the only player to move more than two places in this round was Alex, whose loss by a single tile to Kevin dropped her three places to 7th because it was so close in the middle of the table.
Karen had been the only player to lose in all of the first five rounds (Dale having had a bye in R5), but she stopped the rot with a convincing 10-tile win against Sharon to move up two places to 12th.
Round 7
There was only one 'upset' result as far as the seedings were concerned in this round too, Rick emerging victorious by 2 tiles from his hard-fought game with reigning champion Tom.
Rick had now survived his first 7 games unbeaten (5 wins and 2 draws) but was still behind Heli, who looked to be getting ready once again to mount an attempt to put clear blue water between herself and the rest as she recorded a very big win against Jonathan to break through the 100 TP barrier.
Round 8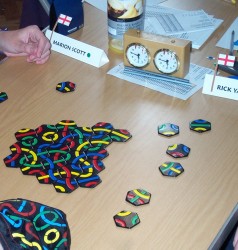 The more experienced players must have been coping best with the tough 5-game afternoon session because Round 8 was devoid of any real shocks. Although Rob was pushed quite close by Brigitte, the only truly nail-biting game was the one between Marion and Rick.
This game had a strange start as you can see on the left, with Marion forced into 3- and 6-tile green loops early on and Rick into a 5-tile blue loop which he was busy building a bigger potential loop around. Rick's line extended to 17 but did not close into a loop and Marion managed to score 18 in the end to win, denying Rick an unbeaten first day by a single tile. Rick dropped to 3rd but bigger wins for other players in the top half of the table ended up meaning that Marion dropped one place to 7th too – not the first time today that a player had dropped a place after winning a game!
Rob beat Brigitte to move up above Rick into 2nd, closing the gap between Heli and himself to 3.1 TPs, while Ben's win against Dale lifted him one place to 4th just 0.8 TPs behind Rick, with Kevin in 5th, reigning champion Tom in 6th, Marion in 7th and Alex in 8th, all within 20 TPs of the lead.
There was then a 8 TP gap back to Al in 9th, with Eleanor 11 TPs further back in 10th, but well in the lead in the U18 competition thanks to her wins against Brigitte, Karen & Jonathan.
Brigitte in 11th led the top U1750/850 competition by more than 10 TPs from Karen, with the inexperienced but very brave trio of Jonathan, Sharon and Dale well adrift but having a good contest between themselves.
Overnight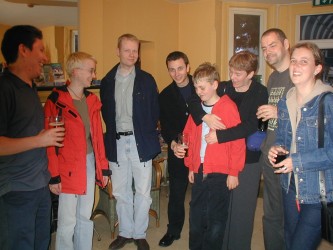 Many of the participants were staying in the same place. Many thanks to Rick for organising this - you can see him, Heli & her husband Tuomo, Al, Dale, Ben and Brigitte getting to know each other better in the picture on the right.
As we packed up for the evening, though, the big question was whether anyone would manage to catch Heli, who had been leading for five rounds. A glimmer of hope for Rob and Rick was provided by the fact that Heli had played all of the bottom three players on day 1 whereas they each had two of them left to play.
Before the tournament, I had tipped Ben to win, but had begun to doubt his chances given that he seemed to be having more trouble coping with the time limit than anyone else.
Still, Tantrix has a habit of throwing up surprises and this tournament was to be no different – by the end of day 2 the following things would have happened:
<![if !supportLists]>- <![endif]>only one of the players in the top three after Round 8 would still be there …
<![if !supportLists]>- <![endif]>one of them would have won on 1/5 of the games they had won on day 1 and dropped no less than six places while conversely a player lower down the table would have won 5 times as many games as they had won on day 1 …
<![if !supportLists]>- <![endif]>Ben would have gained 8 time penalties to more than make up for the 4 he lost on day 1 …
<![if !supportLists]>- <![endif]>1st and 2nd places would be separated by less than 1.5 TPs for six rounds in a row, and by just 0.1 TPs at the end of two of those rounds!
Round 9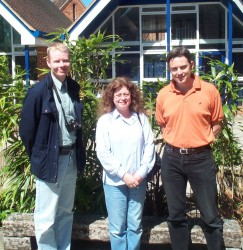 Impressively, no one was late for the 10 am start on Sunday and the fans were out in force again – Tuomo Niemi ("player 1", Heli's husband and chauffeur, not to mention a Euro QF-ist last year!), Mrs Gordon (Eleanor's mum) and Lewis Palmer ("Luigi", who would turn out to be Karen's lucky charm, it would seem!) joining Steve Lugton, who was inadvertently missed off this photo but is in the 2002 pics because he played in the tournament itself last year.
The top two both suffered setbacks in this round, Alex doing a big favour to the other top players and herself by taking a game off Heli, who dropped to 3rd, and Kevin beating Rob who dropped three places to 5th but was still within 5 TPs of the leader. Marion beat Tom too and she and Kevin moved up to 6th and 4th respectively.
Rick looked likely to become that leader when he beat Eleanor by four tiles given that Ben's game with Al was very tight, but although he only lost by a single tile, Al gave up 3 time penalties to Ben while trying to save the game and that was enough for the Dutchman to take the lead for the first time, by just 0.8 TPs.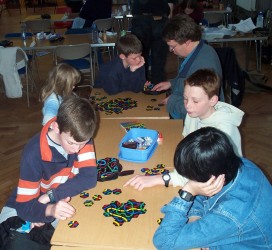 Plenty of non-Tantrix players were following the tournament on the 'results wall' and the kids who had been swarming over the demo tables and proving a real handful for a hard-working Julia on Saturday were enjoying themselves there again on Sunday as you can see on the right, if in smaller numbers. The  youngest player in the tournament itself, Dale, had his crunch game in this round as he took on Jonathan.
Dale built a promising line early on and would have been able to threaten to loop it if only he had picked up a more useful tile at some point during his next few moves. However, it was not to be and Jonathan won in the end to cement his position at the head of the bottom trio – not bad for someone who had only just learnt how to play the game!
Despite this setback, Dale (whose courage in taking part in the tournament in such exalted company had already lifted him many places above those who did not even enter, and whose perseverance and good humour in the face of adversity was admirable, if not astonishingly impressive from one so young) was seeing some benefit from his efforts, with his average score per round showing a significant improvement in the Sunday morning session.
Round 10
Heli was clearly in no mood to let her overnight lead slip too far without a fight, her sporting attire (below L) and determined look (below R) making Rick look more than a little scared (also below R, with apologies to Rick!) as he realised that he was going to be made to pay big-time for moving ahead of her the previous round!
Despite using up 4 time penalties trying to salvage the game, Rick also suffered a huge 15-tile loss, so Heli took all 20 TPs from the game and was back on top again. However, Ben's 13-tile win against Sharon on the next table down meant that she led by just 0.1 TPs!
Kevin's win against Brigitte lifted him into the top three for the first time since Round 1, though he was still more than 7 TPs behind the two Euro 'medallists', while Rob's bye lifted him to 4th as Rick dropped three places to 5th, with Tom's win against Jonathan lifting him back into the top six.
Round 11
This round saw the top seeds matched against each other again. Leader Heli took on 3rd placed Kevin on table 2 (below left) but could not repeat her heroics of the previous round and Kevin finished their very exciting game ahead by a single tile.
Ben would now take the lead if he beat Tom, but their even longer game (below right) ended up as a win for the reigning champion, not lifting him from 6th but helping him nonetheless by closing up the differences in the overall table and making the tournament look wide open again.
Heli retained 1st place despite her loss (which was nevertheless the start of a disastrous run-in to the end of the tournament for her) but she only increased her lead over Ben to a slender 0.7 TPs, with Kevin just another 0.1 TPs behind. All thoughts of someone running away with the tournament by the end of the Sunday morning session were now banished!
Rob and Rick also won their games to stay in 4th and 5th and they were within 4.8 and 8.2 TPs of the lead respectively.
Round 12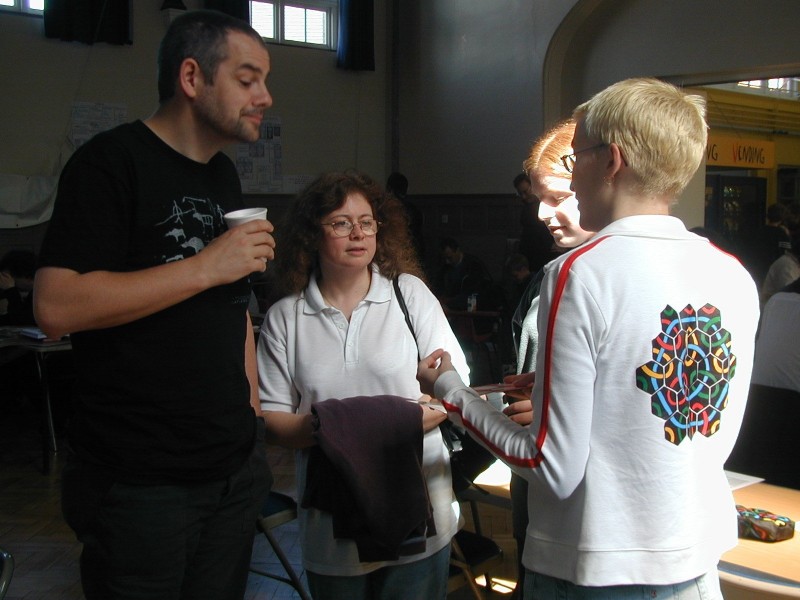 In one of the biggest shocks of the tournament, 12th placed Karen beat 1st placed Heli by three tiles in a graphic illustration of how the fortunes of these two players were changing. Although she had been too far adrift of 11th place to move up any places at the end of this round, Karen would go on to finish with five wins and just one loss on day 2 after just a single win on day 1. Conversely, Heli who had those figures on day 1 would finish with the exact reverse on day 2 - just one win and five losses.
Otherwise, those in the top half of the table all won (Kevin had a bye) so Heli dropped three places to 4th and Ben (whom Eleanor had impressively limited to a win by just a single tile) re-took the lead. However, Rob's bigger win against Sharon helped him to close the gap to just 0.5 TPs and Kevin was still within 5 TPs, with Heli, Rick, Marion and Tom in 4th-7th all less than 10 TPs off the lead, with a big gap of about 15 TPs back to Alex in 8th after that.
That's right, after 12 rounds there were still no less than seven players within one win of the leader! There was plenty for everyone to talk about at lunchtime and it certainly cannot ever be said that Tantrix tournaments are not exciting! J
Round 13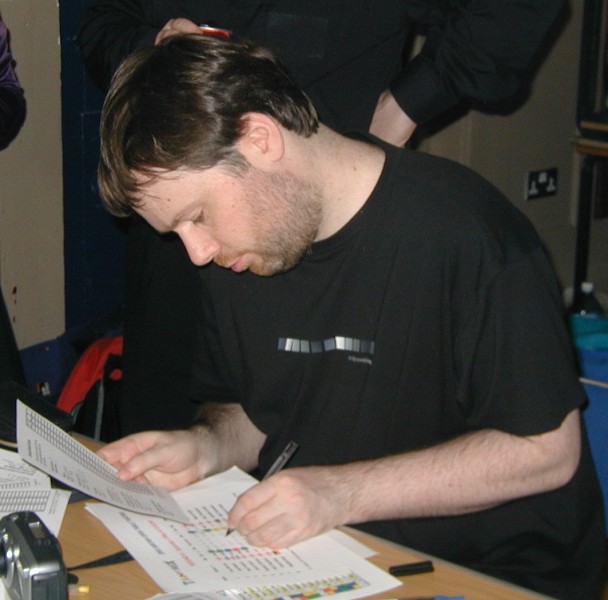 Eleanor made 100% certain of the U18 prize when she took all 20 TPs from her game with Sharon, thanks in part to no less than 4 time penalties.
Further up the standings, there was a new top of the table clash in this round as 1st placed Ben took on 2nd placed Rob, whom he led by just 0.5 TPs. Surely this would lead to one of them going clear at the top?
Well, no, of course not J They somewhat inevitably fought their way to a draw so when Kevin took his unbeaten run to 8 games by beating Al (who dropped three places to 12th and would end up at the bottom of the twelve more experienced players), Kevin took the lead for the first and only time in the tournament, heading Ben by 1.3 TPs and Rob by 1.8.
Heli's slide continued with a loss to Marion who moved into the top five and she and Tom (now in 4th after beating Alex) were both within 5 TPs of the lead, with Rick also still within 10 TPs after having to sit out this round.
There was plenty for me (Steven) to do at the end of the round as the results slips came in. I was feeling the excitement as much as the players and with the scores so close, even the tedious job of doing the arithmetic was vital to get right …
Round 14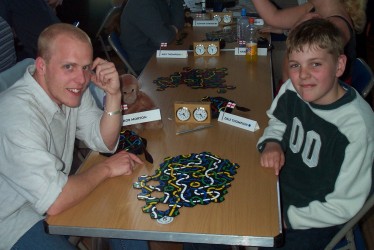 Rob did just about all that could be asked of him in the penultimate round, sharing a new tournament world record aggregate score of 96 with Dale as he completed a 31-tile loop to win by 62-34 (see photo) – this must surely be the only time a player has made a 17-tile loop and got thrashed and the only time a player has made a 31-tile loop and not quite got all 20 TPs!
Rob thus took the lead for the first time since Round 3 but a 15-tile win for Kevin against Jonathan (his 8th win in a 9-game unbeaten run) meant that the top two would be separated by just 0.1 TPs (yes that's just 0.04%!) going into the final round. Ben was still hot on their heels in 3rd after a 6-tile win and yet another two time penalties claimed against Rick left him just 1.3 TPs off the lead.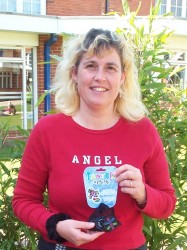 Brigitte had done well to draw against Heli but Karen's win against Alex, completing a stunning 5-game winning streak, lifted her above Brigitte in the race for the U1750/U850 prize, the first time Brigitte had been behind in this contest. Karen was now certain to win either that prize or the one for the top score on Sunday only by a player not winning another prize and since she had to leave early, she posed for a picture that turned out to be the right one!
The permutations
Ben and Kevin would play each other in the last round, so Rob would need to beat Alex in his final game to have any chance of holding onto 1st place unless his two closest rivals drew with each other, in which case a draw for Rob would do, though in that case a win of 10 tiles or more against Heli would let Tom retain his title – a rather far-fetched possibility until you remember that Simon Wright needed no less than five results to go his way in the last round of the Swiss section last year in order to reach the semi-finals, and they did!
Marion still had a chance of a medal and Rick & Heli could still finish in the top five, while Brigitte needed to beat Jonathan by a single tile to regain her lead in the U1750/U850 contest from Karen, who had a bye in Round 15.
Round 15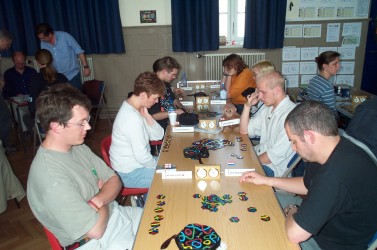 You could cut the atmosphere with a knife as the final round got underway.
Reigning champion Tom made sure that if the players above him did all draw, he would overtake them all by beating Heli by 10 tiles, completing a 5-game winless run and a slide from 1st to 7th over the last four rounds for the star of the first day.
Tom would now finish at least 3rd, having crept into the medal places at the last gasp having been outside them for all of the previous 14 rounds, as a result not least of his heavy defeat by Rob in his first game.
Rob was the first to deny Tom. He got the win he needed, but it was a bit closer than he would have liked, Alex holding him down to a 2-tile margin and being a bit unfortunate to end up languishing down in 11th after being 4th halfway through day 1.
All attention then turned to the game on table 1 … Kevin needed a 3-tile win to overtake Rob while Ben needed a 6-tile win and it was quite close mid-way through. However, Ben started to forge ahead towards the end and Kevin's time started to run out as he tried to salvage the game. In the end, Ben won by 7 tiles, enough to take the trophy and the gold medal from Rob by 0.3 TPs, but Kevin gave up 2 time penalties to Ben too, making the margin between 1st and 2nd the highest it had been all day but still only 2.3 TPs!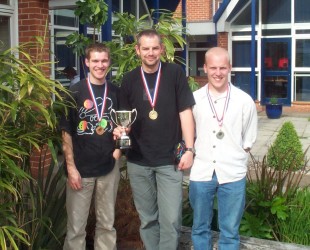 The net +4 time penalties that Ben had claimed were more than the difference between him winning and Rob in the silver medal position – not bad for the player I had originally tipped for the title then discounted after his own problems with the clock on day 1!
Tom won the bronze medal by finishing 3rd, hardly a bad title defence and the three medalists can be seen here after the presentation.
Kevin finished in 4th place and Rick made it a (rather surprising) all-male top five by taking all 20 TPs from his game against Sharon with a 20-tile win plus two time penalties claimed, so there had now been an unprecedented four 20-0 TPs games in a single tournament of 105 games – clearly a 20-minute time limit for a table game is slightly more demanding than a 15-minute time limit for an online game.
Female players filled the next five places, headed by Marion in 6th and Heli in 7th, the Finn winning the prize for the best performance on day 1. 17-y-o Eleanor finished a very creditable 8th and won the U18 prize while Brigitte in 9th got the victory she needed to win the best Elo U1750 / lobby U850 prize and Karen in 10th won the prize for the best performance on day 2 by a player who did not win any other prize.

You can see all of the prizewinners below - the reason half of them appear to be looking at a different camera is that because there was such a posse of photographers clamouring for pics, they were all looking at different cameras! Jake already has his eye on the trophy as you can see, so watch out in 10-15 years' time everybody! For a list of exactly what each player won, please click here.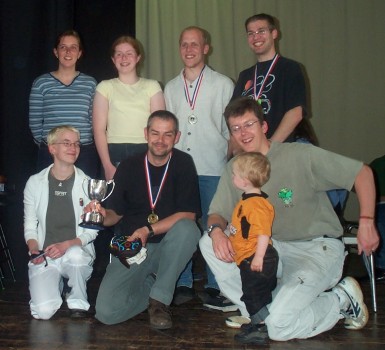 Where's the controversy in this report?
Well, if you insist J …
Is it possible that some of the best female players play very well and aggressively against the very top players but are inclined not to show the same killer instinct against players the next level down?
Taking this tournament as an example, Marion in particular did frighteningly well against the rest of the top seven and if only the results between the top seven had been taken into account in deciding the champion, she would have won (yes, won!) the tournament. However, she (and Heli in this case, though Heli is not a good example of this in general) were both let down by only winning one game between them against the players who finished in 9th-12th.
Controversial?Well, it implies equally good and bad things about the players concerned, I think, so hopefully not offensive to anybody. It is admittedly a crackpot theory based on very flimsy evidence … and it is a gross generalisation – there are male players who fit into this category too and female players who do not.
However, I have noticed the same phenomenon (if a bit less obviously) in the past when checking Elo rating calculations, and if it is true, it might explain why some of the female players have Elo ratings that are a bit lower than might be expected by those of us who have been on the receiving end of some of their best games!
And finally …
Leaving all controversy behind, it was a fantastic tournament, played in an even better spirit and friendlier atmosphere than last year and a great advertisement for Tantrix and its aficionados in general.
I would like to thank Julia for all her help getting things ready before the event and generally making it all possible, and for coping so well with all the young and not so young people who wanted to try Tantrix while the tournament was on, while still having time to win the first prize in the MSO puzzle competition and winning the Sunday "Blank" tournament with me - not a bad weekend's work for a controller!
I would also like to thank Rick for helping the atmosphere to be friendly right from the outset by getting so many of the players together for the weekend and all those who picked up the overseas participants from the airports as well as the MSO team headed by Charles Matthews and Paul Smith who made the Cambridge MSO event possible … and arranged provision of the clocks!
Most of all, thank you to all of the entrants and fans who came from near and far and helped to make it so much fun.
Next year
See you all next year, same place I hope. Entries will open much earlier next time (in October) if we know by then that MSO Cambridge is definitely going ahead again next year.
Report by Steven Trezise, Tournament Controller
Photos by Steven Trezise, Karen King & Steve Lugton

Want yet more pics? :-) - follow the British Open link on Heli's homepage
View the CROSS-TABLE & POSITIONS AFTER EACH ROUND, cumulative TP totals & time pen summaries

View the INDIVIDUAL GAME RESULTS in chronological order with tile scores, times, etc

View the LIST OF PRIZEWINNERS

View the LIST OF ENTRANTS and where they finished

View a list of the top three players in each Tantrix tournament ever played

Return to the British Open home page
Return to the Tantrix tournaments home page



[an error occurred while processing this directive]